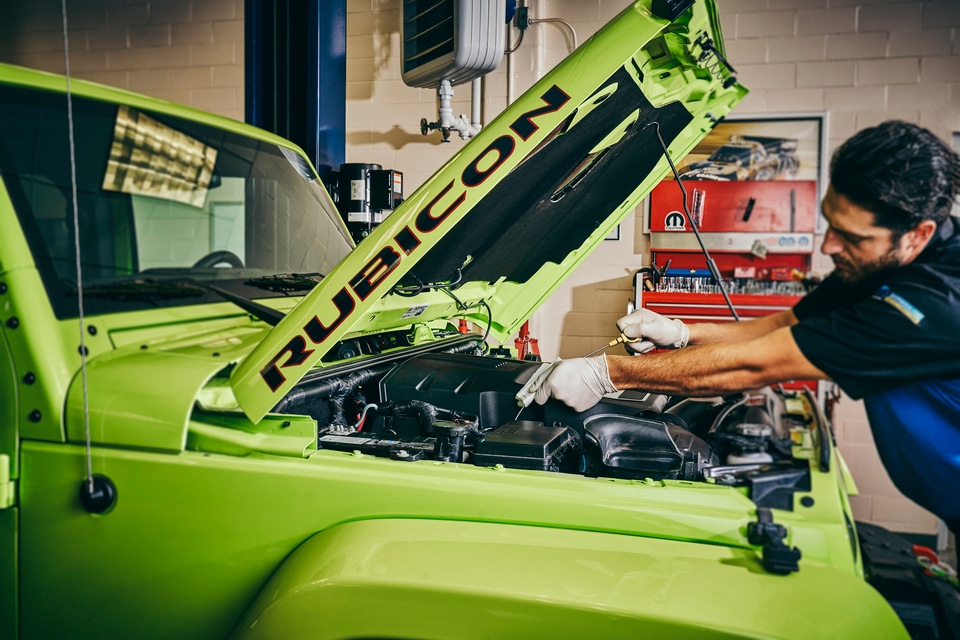 Jeep service intervals: To help your Jeep live a long and healthy life
Whatever Jeep you drive, whether it's an unstoppable Jeep Wrangler or a versatile Jeep Grand Cherokee, regular service is vital. That's why we encourage all our valued customers in Charlevoix and Kalkaska, MI to get acquainted with Jeep service intervals and schedule regular maintenance with us at Bill Marsh Chrysler in Traverse City, MI. We want your Jeep to keep going strong, hopefully forever.
We can help you get set up with a regular maintenance program
Because we've seen so many happy Jeep customers get long-lasting reliability from following factory-recommended service intervals, we'd like to see all our customers doing the same thing. We can provide you with a complete Jeep-recommended service schedule in digital or paper format - or both. When you give your Jeep services like regular oil changes and tire rotations, your Jeep will return the favor with longer life.
Your service intervals may vary
Please note that service intervals can differ somewhat, depending on the Jeep model you drive and the kind of driving you typically do. For example, if you do a lot of start-and-stop driving with shorter trips in an urban setting, your Jeep might need a least some maintenance services more often. Talk with one of our experienced service advisors about your Jeep and your driving style to get a schedule that's optimized for you.
The service intervals included in this article reflect standard Jeep recommendations for most Jeep models and most drivers around nearby communities like Charlevoix and Kalkaska, MI. Since we don't have room for a comprehensive list here, we'll provide some representative examples of the maintenance your Jeep needs - especially in the early part of its life.
At 8,000 miles or 6 months
Jeep maintenance starts with the most basic - and one of the most essential - maintenance tasks of all: A regularly-scheduled motor oil and filter change. We also recommend having your tires rotated with every oil change, or with any significant sign of uneven wear. That helps your tires wear more evenly.
At 16,000 miles or 12 months
This is a more extensive list of the services we can do for Jeep owners in Cadillac and Gaylord MI which should include maintenance like these examples:
Oil and filter change
Tire rotation
Replace the air conditioning filter
Inspect brake linings and replace if needed
Inspect the exhaust system
Inspect front suspension
Inspect tie rod ends and boot seals for cracks and leaks
At 24,000 miles or 18 months
This is a shorter list of services than the 16,000-mile interval. Steps include:
Engine oil and filter change
Tire rotation
Inspect CV joints
Inspect exhaust system
AT 32,000 miles or 24 months
Here's another maintenance signpost and a few examples of what should be done:
Change oil and filter
Rotate tires
Replace the engine's air filter
Replace the air conditioning filter
We can provide you with a more complete list
This just an initial outline of Jeep factory-recommended maintenance intervals. We encourage you to schedule service soon and talk to one of the experts in our service center about getting a more comprehensive schedule for your Jeep. We look forward to seeing you soon at Bill Marsh Chrysler in Traverse City, MI.