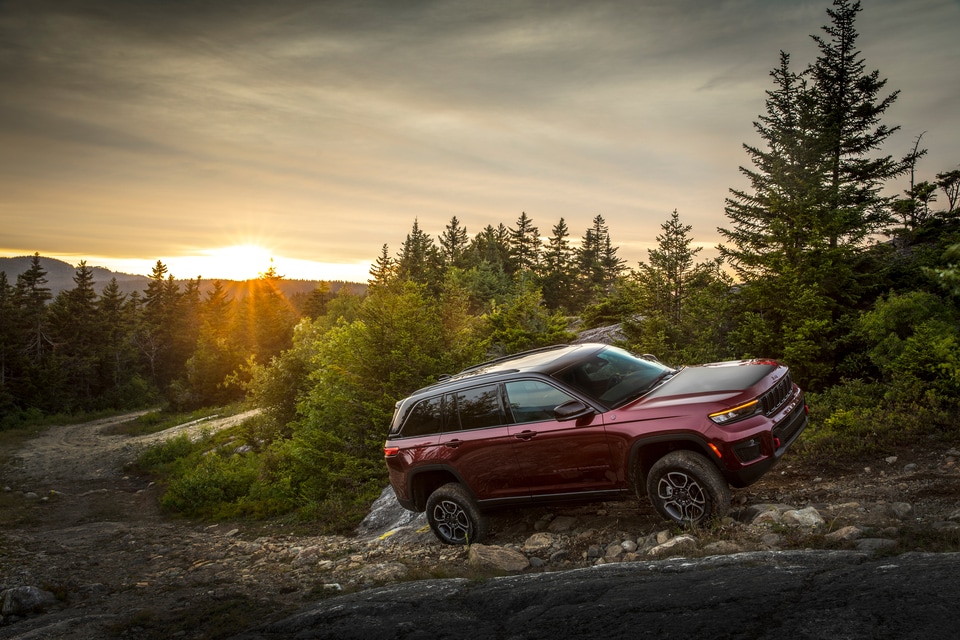 Experience a Top-Notch SUV With the 2022 Jeep Grand Cherokee
If you are looking for an SUV with plenty of premium features, you can pick up the 2022 Jeep Grand Cherokee at Bill Marsh Chrysler Traverse City. From its dazzling exterior to its powerful engine, the 2022 Grand Cherokee is a masterpiece. The Jeep brand remains a powerhouse in the automotive industry and wows its fans here in Traverse City with exquisite models like the 2022 Grand Cherokee.
What's New in the 2022 Model?
The redesigned Grand Cherokee is now available in a two-row model and sees the return of the Trailhawk model. It is also available with a new 4xe plug-in hybrid model for more efficiency. On the interior, the model features more luggage space and a center console with redesigned dials and buttons.
Exterior
If you are a fan of delightful designs, the 2022 Jeep Grand Cherokee is sure to impress you with its eye-catching iconic design. The stylish SUV features a new front end with Jeep's trademark seven-slot grille, unique headlights and fog lights. In addition, the model features a wider track that allows it to wear lovely 21-inch wheels. On certain models, you can enjoy a black rooftop with a magnificent rear spoiler that blends with the horizontal taillights. As a result of its commanding stature and elegant look, driving the 2022 Jeep Grand Cherokee around Charlevoix is sure to attract stares.
Performance
Available in three powertrain options, the new model promises buyers a remarkable performance. The 3.6-liter V6 entry-level engine produces 293 horsepower and 260 pound-feet of torque, resulting in an exciting drive. Acceleration is effortless due to the eight-speed automatic transmission available in all models. It sends power either to a four-wheel or rear-wheel drivetrain and can drive up to 19 mpg in the city or 26 mpg on the highway.
For buyers with an eye for incredible performance, get the powerful 5.7-liter V8 engine. Available with the eight-speed automatic transmission, the V8 engine churns out 357 horsepower and an astounding 390 pound-feet of torque. Consequently, driving the model across highways near Gaylord, MI is enjoyable, and you will get to high speeds within seconds. As a result of its cylinder deactivation technology, the massive engine manages to drive up to 14 mpg in the city and 22 mpg on the highway.
The new Grand Cherokee is available as a 4xe plug-in hybrid model to provide buyers with improved fuel economy. It combines a 2.0-liter turbocharged four-cylinder engine with a 134-horsepower electric motor and 14-kWh battery pack to deliver 375 horsepower and 470 pound-feet of torque. You can expect the plug-in hybrid powertrain to deliver up to 57 MPGe.
Towing Capacity and Off-Road Ability
The massive 2022 Grand Cherokee is built to handle heavy towing duties with ease. Consequently, you can enjoy towing a trailer or boat as you head to your weekend getaway near Cadillac, MI. The 3.6-liter model can handle 6,200 pounds, while the V8 can manage up to 7200 pounds. Even the 4xe hybrid can impress buyers with its capability, since it can tow up to 6,000 pounds.
Your off-road adventures around Kalkaska can be quite enjoyable courtesy of the 11.3-inches of ground clearance that allows you to drive over rocky terrains without worrying about scraping the bottom of your SUV. The new model comes with a disconnecting sway bar for greater wheel articulation on your adventure. In addition, the model is available with an all-wheel-drive system that features a locking differential for reduced wheel slip as you drive on slippery terrain.
Safety
The 2022 Grand Cherokee comes with high-tech safety and driver-assist features for maximum safety. They include adaptive cruise control, active lane control, rear parking sensors, blind-spot monitors and automatic emergency braking. Optional features include a night vision camera, a level 2 hands-free highway driving system, automatic parking and a surround-view camera.
Currently in its fifth generation, the new Jeep Grand Cherokee is a favorite among many SUV enthusiasts for its abilities and practicality. Consider getting the new model and enjoy a driving experience like no other on your trips around Traverse City.